Welcome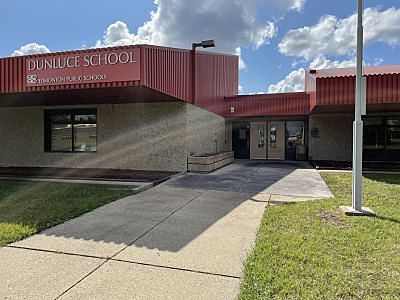 École Dunluce School is a closed boundary school in our English Program. As outlined in Division regulations, the only new students accepted to our school during pre-enrolment are:
Resident students who live within the attendance area.
Siblings of current students who will be returning to the school the following year, unless otherwise determined by the Superintendent for a particular school.
École Dunluce School is full in planned classes in:
Grades 1, 3, 5 and 6 in the Regular Program.
Grades 1 and 2 in French Immersion Program.
For the regular program, we will now only accept resident students in Grades 1, 3, 5 and 6 who newly move into the school's attendance area. A resident student of Edmonton Public Schools has at least one parent or legal guardian living in Edmonton who is not Roman Catholic. Non-resident students can enroll in another Division school with space in planned classes.
If you register for Kindergarten or are new to Edmonton Public Schools, you must register online.
If the student you are registering or pre-enrolling meets one of these criteria for the 2021-2022 school year, please register them online (new students) or pre-enrol through SchoolZone (existing students).
Following the close of pre-enrolment at 4 pm on April 15, 2021, the school will only accept resident students who have newly moved into the attendance area or resident students eligible for Kindergarten
Welcome to École Dunluce School. We are a Leader in Me School, developing leaders and learners for a promising tomorrow. Our school serves a diverse population in Edmonton's Castledowns area. With a population of 365 students, in both French and English, we work collaboratively with students and their families to provide the best educational experience and social opportunities possible.